Post by MissPatTS3 on Aug 27, 2020 5:12:29 GMT
Last updated: 28.08.2020
If you are not a member of the
Job Centre's Discord Server
yet, join us today! We are sharing
Sims 3 gameplay tips
with each other, that are mind-blowing even for seasoned simmers (some of us have been playing since the original
The Sims
... #OldButStillLit).
One of the major Sims 3 gameplay tips, for many of us, was discovering the power of "object script changer" mods.
The most well known of all is the Transmogrifier by icarus_allsorts:
Why is it game-changing?
To give a simple image, the Transmogrifier, and Object Script Changers, allow you to copy the function of an object, and apply it to a completely different object. Indeed, in the game, object functions are sometimes - not always - ruled by "scripts" written in the game's code.
Want a magic, flying carpet? Well, with Transmogrifier, it's very simple:
Step #1: Put a rug on the floor.
Step #2: Put the hoverboard from Into The Future next to it.
Step #3: Press Ctrl+Shift and click on the object with the function that you like, in this case, the hoverboard.
From the menu, choose "Copy Script". A notification will show up, telling you the exact script class name you just copied (Sims3.Gameplay.Objects.Hoverboard).
Step #4: Press Ctrl+Shift and click on the object you want to apply the function to, in this case, the rug.
From the menu, choose "Change Script".
The copied script class name should automatically be typed in for you. Click "accept".

Step #5: Voilà! When you click on the rug, you should now be able to have the same interactions as if you were clicking on the hoverboard.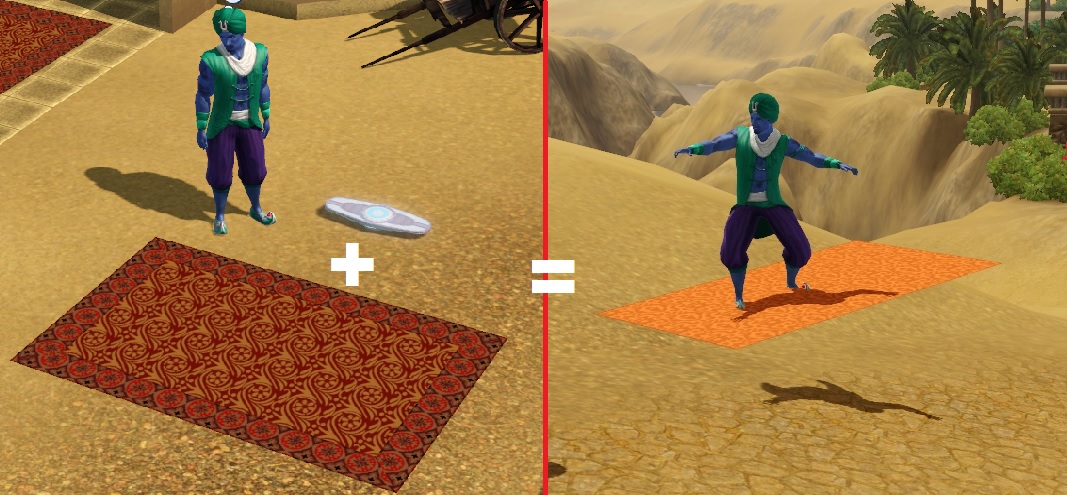 Where to next?
With the awesome members of the
Job Centre's Discord Server
we are regularly sharing other Object Script Changers we know about, as well as surprising and inspiring ways we implement said mods.
We have a strong "trials and errors" mindset and love to see what works and keep track of what utterly fails!
We're all for saving fellow simmers the time and frustration of failed attempts.
Object Script Changers [Master List]
Name
Creator
Link
Purpose
Generic Food Maker


Arsil
Click here
This is a script that can be applied to an object to turn it into a generic food maker.
Using Buy/Build mode interactions you can configure what kind of food can be made
(or bought, depending on the configuration and on your own interpretation) with the object.

Cooler
Arsil
Click here

It works like a fridge for the cooling process, but it is portable and has its own inventory - unlike fridges that use a "shared inventory" which is linked to the lot they are in.
You can drag and drop any object inside the cooler, but it will recognize spoilable food.


It comes with ice pack objects which will keep foods fresh only if there's at least
one ice pack inside it. Ice packs expire after some time and are automatically destroyed.

Script for Custom Foods

NonaMena

Click here
This script is an altered version of EA's DriedFood script, which removes [many] side effects (and more!). It makes custom food way more fun for your sims.
Speed & Slot Script Class Mod
Morphead
Click here
Adds 11 new car script classes to make any individual vehicle faster or slower with more or fewer seat slots.

Credits
This post idea and content was inspired by many fun conversations with the following Discord + forum members: